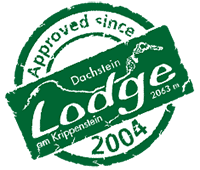 The Lodge at Krippenstein | Dachstein
The Lodge am Krippenstein is located on one of the most beautiful places in the Alps in the heart of the World Heritage region Dachstein Salzkammergut.
Come up and come down on one of the last largely untouched places in Central Europe.
The Dachstein and its side summit of the Krippenstein, at the top of which the lodge is located, offer a variety of ways to feel the freedom.
We, the family Rosifka / Unterdechler live this dream and our center of life is the Dachstein.
We would be very happy if you could experience the magic of this mountain with us.
Are you ready to move a little closer to freedom and experience the perfect moment?